---
NOW SHOWING
was our attempt to bring poetry back into an accessible space which wasn't affected by COVID-19 restrictions: the walk to the store. The objective of the project was to encourage onlookers to
ask themselves
, 'is that poetry'? This project was curated in collaboration with
Incident Report
and their
REPORTS
series. This curation was projected for six weeks in early 2021 and featured eight separate pieces.
Incident Report is a space in Hudson, New York which is located in the storefront of
the Flow Chart Foundation
. Their current project,
REPORTS
, is a series of illuminated text-based works and adjacent artifacts that are publicly visible 24 hours a day, often displaying notation, transcription, poetry, manifesto, inventory, elegy, code, prayer, instruction, lyric and more. We want to give a special thanks to Jeffrey Lependorf from The Flow Chart Foundation and Max Goldfarb from Incident Reports for working with us on this project.
Authors of projected texts
Tyko Say
Marc Fischer
Michael Ashkin
Jason Geistweidt
David Levi Strauss
Kay Rosen
Max Goldfarb
Norman Douglas
See the details on each of the writer's projected piece below
---
Norman Douglas
does way too much, even tho he says he does as little as possible. he lives alone while advocating community. he looks like he's black and says that no lives matter to the merciless international juggernaut dba global capitalism (unless you wanna invest in more slow death). he writes poems on the street and says he's not a poet. he uses human languages to say we're not even people. he knows the planet will be just fine without anybody around to evaluate its worth and says so when he catches himself talking about how to solve the world's problems as if the world is people. mostly he wants to get better at not trying to not try to be better. he moved to hudson in 2003.
NOW SHOWING: Norman Douglas's Against Human Nature

︎This text was projected from May 5th - May 7th

︎Here's an excerpt of the text ︎

subscribers of survival suppose such submission subsumes what subverts. exhausted and entombed alive by a self-interest steeped in separation from its self, a sinking suspicion simmers up from a seemingly subcutaneous something. a jargon of garbled alarms alerts one to elephants in rooms, writings on walls, angels passing by when in fact, the hell of it all ripples out from the gutbrain within. that unanswered knock at the door is the diuretic call to unlearn the anesthetic non-sense each infant individual is enticed to swallow, supplanting a vast sensorium it knows precedes any paltry birth rite.

a spectacle of surfaces must eventually expose the pores that draw tight the threads enmeshed in every fabric. surveillance is not mastery accomplished through careful observation, it's conditioned overwatching, a glut of seeing that sparks the observed to assert its active agency — objects express objections to the subject's projected subjection. this common communicative partnership plays out the quixotic qualities of morphogenesis that quantum experience reveals. so much looking keeps on proving eyes are seeking without finding any actual ingredient that bestows on them a means to contain and keep what is real. impeded by words that encourage codes to unlock what is never secret, all that is unseen defies definition but not its omnipresence in the playful symphonics of interstellar folding and unfolding.
---
NOW SHOWING: Max Goldfarb's jumpkit
︎This text was projected from April 28th - 30th
This projection, "an absurdist inventory for emergency preparedness," comes from
Maximilian Goldfarb
. It was written and originally installed several years ago in Western Front (BC) and published in the book
Recipes for an Encounter
.
Maximilian Goldfarb
is a maker of unsettled objects and soundscapes presented through methods of installation and transmission: Forms of production include books, objects, site-based artworks and experimental radio programming. Goldfarb has completed works with support from the Harpo Foundation, the Elizabeth Graham Foundation, the Pollack-Krasner Foundation and the Experimental Television Center. He has participated in numerous exhibitions in venues including Sculpture Center, NY; Stadsgalerij, NL; Western Front, BC; and White Columns, NY. A recent fellow at the MacDowell Colony, Goldfarb is co-author of
Architectural Inventions
(Laurence King Publishing), an archive of contemporary visionary architectural drawings. Goldfarb is on the faculty of the Department of Art, University at Buffalo.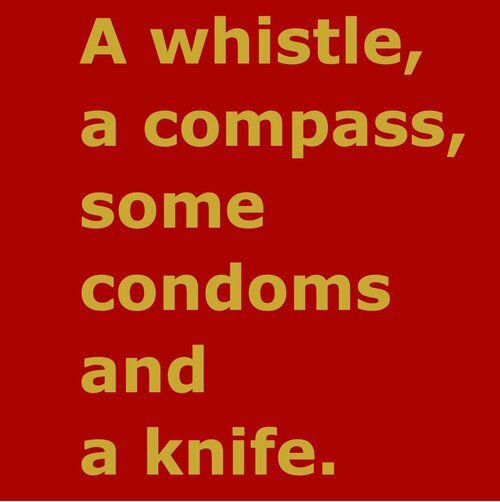 ︎Here's the text ︎
Radio, Power Supply, Charger, A flashlight, a mirror, a magnifying glass. Zinc. An air-tight container, water, bandages, gauze. Examination gloves. Aspirin, alcohol, duct tape. String. Jello, a wool hat, plastic bags, a poncho and some wax-coated matches. A whistle, a compass, some condoms and a knife. Spare money, a pen and some paper, vise grips, carabiners, Vacuum-packed snacks. Underwear, thermal socks. Petroleum jelly. Salt. Candles. Iodine. A toothbrush. Motor oil, nail file, venom extraction pump, trowel, 1000 calorie food lab emergency rations, cocktail shaker. Sun block. Flares. Screwdrivers. Gill net, surgical tubing, chewing gum, antenna cable, jumper cables, a frying pan, aloe vera, wet wipes, a sun-hat, locator beacon, blood transfusion kit, work gloves, and extra sweater. Arrows, gasoline, twine, fish hooks, boots, a rain-suit, tick repellent, G.P.S. receiver, toilet paper, electrolyte replacement drink, a towel or wash cloth, rifle-mount telescopic sighting, a folding chair, a sleeping bag, a blanket, tent, needles, nasal spray, small caliber handgun, thread, pillow, reading material, pepper-spray, shotgun, ointment, monkey wrench, binoculars, anal probe, explosive charges, strychnine, vitamin C, cereal, razor blades, tea bags, nails, propane, extension cord, reflectors, knife sharpener, anti-bacterial soap, flint, scissors, a winding clock, multi-purpose snips, a spoon, sawed-off shotgun, shank hook, aluminum case, snare wire, insulated mask, silver polyethylene survival blanket, sulphuric acid, elasticized fabric, snake bite treatment kit, micro-pure water disinfectant tabs, bullion cubes, and sugar. Also: saline solution, water proof ammo case, tampons, aluminum foil, freezer bags, cauterizing plate, tourniquet, sponge, Zithromax anti-biotic caps, pencil, dog tag, sextant, Vicodan, Teflon tube, knot tying instructional booklet, potassium permanganate crystals, electrical tape, potable water disinfectant tablets, cellular phone, Gore-tex hoody, air-activated hand-and-toe warmers, foam, eye-patch, transparent field dressing, flash burn kit, compress bandages, moleskin, irrigation syringe with catheter tip, betadyne antiseptic, super glue, splinter forecepts, hemostatic clamp, slingshot pouch, thermometer, Ibuprofin, Malox, Benadryl, Pseudophedrin, chloropheniramine, Triamcenolone, Dymenhydrinate, Immodium, oral re-hydration salts, spare-air emergency breathing apparatus, parachute cord, Blistex, sunglasses, manual reverse-osmosis desalinator pump, coagulant, Kevlar vest, anti-coagulant, braided rope, money belt, mesh mosquito body suit, orange surveyors tape, laser signal device, canteen, collapsible cup, fuel-less bi-directional hand operated chainsaw, neck gaitor, dental floss, snare, water-gel burn dressing, no-doze, respirator, replacement filters, oxygen back-up tank, and of course, throwing stars…
---
Kay Rosen
's investigation into the visual possibilities of language has been her primary focus since 1968, when she traded in the academic study of languages for the study of language- based art. Through paintings, drawings, murals, prints, collages, and videos, Rosen has sought to generate new meaning from everyday words and phrases by substituting scale, color, materials, composition, graphic design, and typography for the printed page. The writer Rhonda Lieberman described her as a revealer of language who "shows it doing things that are totally above, beyond, and/or below its function as a mode of communication." Rosen's work has been described as sculpture, poetry, architecture, and performance. Roberta Smith once called her a "writer's sculptor" and Eileen Myles called her the "poet of the art world." Kay Rosen has been the subject of numerous articles, reviews, and group and solo exhibitions, including in 1998 a two-venue mid-career survey entitled Kay Rosen:
Li[f]eli[k]e
, curated by Connie Butler and Terry R. Myers at the Los Angeles Museum of Contemporary Art and Otis College of Art Design.
NOW SHOWING: Kay Rosen's Sisyphus (70)
︎This text was projected from April 26th - 27th
The video SISYPHUS
by the artist Kay Rosen, depicts futility and hope. In the Greek myth, Sisyphus, a mortal, was condemned by the gods to roll a large boulder up a steep hill for eternity, only to have it roll down again. The futility of his task is verbally reflected in the video by the seventy different spellings of Sisyphus, one name per frame, but it is never spelled correctly. There may not be another word which has so many possible variations, which is due to the multiple spellings for the S, C, I/Y, and PH/F sounds. Hopefulness lies in the repeated attempts by Sisyphus to succeed and his
expectation that he will, in spite of his repeated failures.
SISYPHUS forms part of the artist's list-making practice which has been ongoing since the late 80's. The serial organization of language and information into lists has been of continuing interest to her, along with her language-based paintings, drawings, prints, and murals
Here's the text ︎
cicifus cicyphus ciscifuss cisiphus cissifus cissyphus cisyfus cyciphuss cyscifus cycyphus cysifus cyssiphus syssifus cyssyfuss syssyphus cysyphus sysyfus scicifus scicyphus sciscifus sciscyphuss scisifus scisyphus sicifuss sicyphus siscifus sisiphus sissifus sissyphuss sisyfus syciphus sycyfus sysciphus sysifuss syssiphus syssyfus sysyphus ciciphus cisyphus cycifuss cysciphus cycyfus cysiphus cyssifus cyssyphuss cysyfus sciciphus scicyfus scisciphus sciscyfuss scisiphus scissyfus sycifus sycyphus syscifus sysiphuss cicyfus cisciphuss cisifus cissiphus cissyfus cisyphus scissiphus scisyfus siciphuss sicyfus sisciphus sisifus sissiphus sissyfuss
---
NOW SHOWING:
David Levi Strauss' Co-Illusion: Dispatches from the End of Communication


︎This text was projected from April 21st - 22nd

It's midnight in America, and nocturnal beings like me are trying to determine what just happened in the public imaginary. The changes have been so precipitous in the past five years that one struggles to respond in time. The rise of Donald Trump and Trumpism has revealed the rot at the core of American exceptionalism and its barely submerged psychopathologies of racism, sexism, xenophobia, and homophobia. These things have been a part of America from the beginning, but are being manipulated differently now.
As a student of images and of how images are used to effect public opinion and public sentiment, I have watched in wonder and horror as a whole new kind of iconopolitics, largely at the service of these psychopathologies, came up on the screens. We created new platforms for communication, and then watched helplessly as they were overwhelmed by
hate and stupidity.
Recent changes in the way words & images are produced and consumed made the current political situation possible. It is my contention that these changes in our communication environment that have taken hold over the past 15 to 20 years, are mostly not scrutinized because we are still largely enthralled and entranced by the mechanisms at play. Our fascination with and fealty toward these machines, these apparatuses, keep us from asking fundamental questions about them. And these mechanisms are designed to do exactly that: to maximize attention and minimize scrutiny.

Here's the text ︎
THE WORLD ON THE SCREENS The images on the screens have become better and more beautiful over time, because I decide what comes up on my screens. I am in control of my own feed, and I choose from among an infinity of choices. I am free because information is free. Because I am free, the old categories of right and left and right and wrong no longer apply to me. The old morality is dead. The old democracy has been disrupted. Our new democracy puts each user in control of his or her own destiny. Once I give up my personal privacy, I can choose anything I want from the infinity of choices provided by other users. Everything that exists, exists on the screens. There is nothing outside of the screens. The world on the screens is beautiful. All human problems can be solved, quickly and easily. We can eradicate world hunger, cure all disease, do away with poverty, and stop climate change. These are all technical problems. Believe me. Politics is not the solution to our problem; politics is the problem. No one is in power. Mark and Jeff and Eric and Steve are not in power. Donald is not in power. We are no longer citizens. We are greater than that. We are singular. We are singular. We are singular.
David Levi Strauss
is the author of
Co-illusion: Dispatches from the End of Communication
(The MIT Press, 2020),
Photography & Belief
(David Zwirner Books, 2020),
Words Not Spent Today Buy Smaller Images Tomorrow
(Aperture, 2014),
From Head to Hand: Art and the Manual
(Oxford University Press, 2010),
Between the Eyes: Essays on Photography and Politics
, with an introduction by John Berger (Aperture 2003, and in a new edition, 2012), and
Between Dog & Wolf: Essays on Art and Politics
(Autonomedia, 1999).
To Dare Imagining: Rojava Revolution
, edited by Strauss, Michael Taussig, Peter Lamborn Wilson, and Dilar Dirik, was published by Autonomedia in 2016.
---
NOW SHOWING:
Jason Geistweidt's The Order of the Biconditionary
︎This text was projected from April 18th - 19th
The Order of the Biconditionary
is the result of seeding the GPT-2 artificial intelligence (AI) with a translation of the complete text of Guy Debord's
Society of the Spectacle
. The process was repeated over 3 days in January of 2020 with the more interesting results being collated into approximately 7,000 characters for use in Incident Report's ongoing series of incursions at the Flow Chart Foundation. Due to the complexity of the AI, each run required 4 to 6 hours to complete and occasionally crashed, returning a null result. Each attempt was in many ways a performance, Debord's text versus the machine. There are strong repetitions and cadences, interesting feedback, and deep nonsense. What results is a form, a structure that may be contemplated and considered somewhat a spectacle within itself.
Jason writes,
I am primarily interested in media-making, that is the deployment of various tactics and techniques by which to engage materials and arrange them in time and space. To my mind, poetics is intimately linked to form and process, the ways in which sound, color, text, and other materials arrange themselves through happenstance — juxtaposition and congruence. Media is material, and as such, these materials have certain affordances, ways in which they wish to be utilized, a mechanism by which they may come together. A text will exhibit a syntax, a set of rules that can be recognized and computationally reduced to a set of probabilities and procedures. By reversing this process, seeding a set of rules with an existing corpus, we may generate new texts.
Here's the text ︎
We are the masters of the world. The masters of the foreign world we are. The masters of the world we have just become. They have made the world their realm. They have shaped what it is that we do and what it is that we do them. We are the servants who have no home in the foreign world. We are the only true home that has not yet found another. We are the only true community that cannot yet be established in its unity. We are the only community that is blind to the great work that is taking place in the world. We are the conditions for the inevitable division that is taking place every corner of the globe. We are the conditions that are often met in the struggles of the classes, in the contradictions and the contradictions of powers, in the contradictions and the contradictions of religions, in the contradictions and the contradictions of revolutions, in the contradictions and the contradictions of revolutions of which armed struggle is still a dream? We are the conditions for the inevitable destruction of every element of nature in the world, in the diversity of the possibilities that exist. We are the conditions under which the development of the economy turns into the development of the class, and the development of the class is the product of its development. The diversity of possibilities underpins every aspect of the development of the economy. So wide is this world that the economic division leads to the division of the human race, the world which is only the division of the economy creeps toward itself in its own territory and becomes the territory of plans and laws. The division of the economy within the ruling class and in the administration of the economy expose the path that the class led the way in, the stage at which the production of commodities takes shape. The division of the economy within the economic division exposes the stage that the ruling class continues to pursue its program and that of the economy. The economic division then reveals the manner in which the economy of the divided economy has shaped the terrain of social life, the terrain which forms the basis of the character of the economic power. The economic division exposes the manner in which the dominant economic practice has shaped the terrain of social life. The economic division then reveals the manner in which the system's denial of itself as an independent being has hardened the social layers of the economy, revealing its full extent to the naked eye. The economic division then reveals the manner in which the economic system has translated itself into the universal unconscious nature and character of the totality of social life
Jason Geistweidt
is an artist and scholar working across the fields of sound composition, physical computing, creative coding, real-time performance systems, and installation. In his creative work he utilizes computation as a means for organizing time and space, invoking the event and creating experience. His current research interests lie in the study of media impermanence and the transitory nature of computation. In 2019 large-scale prints from his twittage project, which procedurally collages images captured from the Twitter firehose, were featured in the group show Unsettling Time at Vanderbilt University and his thoughts on the future of media study appear in the 2020 inaugural issue of MAST, the journal of media art study and theory. His electroacoustic works have been presented at both the ICMC and NIME conferences. Geistweidt holds a Phd from the Sonic Arts Research Centre, Queens University Belfast and a Masters from The Centre for Computational Musicology and Computer Music at The University of Limerick. His amateur radio callsign is KD2SGY
---
Here's the text ︎
were it not for the endless expanse...were it not for the distance between here and there...were it not for the closed horizons...were it not for the unmarked border were it not for the lack of a map...were it not for the oncoming night...were it not for the shortness of breath...were it not for the lack of cover...were it not for the vultures above...were it not for the bandits...were it not for the smugglers...were it not for the stories...were it not for the friend who returned...were it not for the friend who failed to return...were it not for the promise of no better...were it not for the lack of water...were it not for the still unhealed wounds...were it not for the price of trespassing...were it not for the lack of faith...were it not for the lack of cash...were it not for the lack of a plan...were it not for the death of the dream...were it not for the war...were it not for the other war...were it not for the escapist delusion...were it not for the uncertain distance...were it not for the unusable weapon...were it not for the harboring of no illusions...were it not for the weight of history...were it not for the end of history...were it not for the death of the gods...were it not for the death of ideology...were it not for the end of days...were it not for the self-scrutiny...were it not for the psychoanalysis...were it not for the next appointment...were it not for the cynicism...were it not for the addiction...were it not for the propaganda...were it not for the pragmatic sense...were it not for the payment plan...were it not for the conservative streak...were it not for the public relations...were it not for the failed revolution...
Michael Ashkin
's work spans various media, including sculpture, installation, photography, video, poetry, and text. His work addresses issues of landscape and urbanism, specifically the intersection of subjectivity with the social, economic, and political production of space. Ashkin's work has been exhibited at Documenta 11 (2002), the Whitney Biennial (1997), the Vienna Secession (2009), among others in the U.S. and abroad. He has recently published three photobooks, were it not for (2019),
Horizont
(2018), and
Long Branch
(2014).
NOW SHOWING: Michael Ashkin's Were it Not For
︎This text was projected from April 12th - 13th
The anaphora, "were it not for," was inspired by a photograph of distant desert mountains across a border. Each line suggests a reason why that border cannot be reached or crossed. Each line thus represents an obstacle. The obstacle may be material or it may involve fear, laziness, reluctance, ideology, or the exercise of authority and power. In the end, I imagine that the text became a fragmented cross-section of global political, economic, and psychic separations from the perspective of common language.
The text was written entirely at night during bouts of insomnia beginning in November 2011 and lasting about a year. I kept a pad on the floor near my bed and strung lines together in the dark until I ran out of energy. The next morning, I would transpose those that were legible. I eventually allowed myself some editing, but with only minor revisions, to remove repeated lines, etc. The text was read publicly several times, the first time at a conference in Aarhus, Denmark, where the idea of reviving the Situationist International was entertained. In 2019, the text accompanied a series of photographs taken in the Mojave Desert in a book, fittingly titled "were it not for".
On poetics, Michael writes,
I think in terms of space and recognize that language constructs space. The boundaries of words become the boundaries of objects. Together they absorb the logic of the world, and together they harden. When I combine readymade fragments of language, I hope to provoke the estrangement they deserve – opening fissures through which the suffering they have repressed can emerge, amassing and condensing their liberatory energies.
.
---
NOW SHOWING: Marc Fischer's Chest Wound to the Chest
︎
︎This text was projected from April 8th - 10th
Marc Fischer's piece consists of phrases transcribed from daily listening to dispatches by the Chicago Police Department on a radio scanner. His Half Letter Press/Public Collectors has also produced a brochure/booklet for this project; the "Chest Wound" brochures are free to the public and will be available in Hudson, NY.
Marc writes,
"Chest Wound to the Chest was drawn from daily notes that I wrote while listening to the police scanner in Chicago for 75 days straight between September 10, 2020 and November 23, 2020. The larger project, Public Collectors Police Scanner, was a meditation on policing in America with an eye toward an abolitionist future where we no longer depend on police. Listening to the dispatchers and police was an opportunity to better understand what people call the police for and the role of the dispatcher in initiating police responses. All statements were written down, to the best of my ability, as they were spoken by dispatchers or police officers. Many comments—once transcribed—felt like accidental or found poetry. While the organization of the notes was considered creatively with an eye for patterns and rhythm, I never set out to create a poem. An invitation to submit a text for a public-facing LED sign for the project Reports at Incident Report in Hudson, New York helped suggest the form and length. This text derived from many unrelated police incidents and was not a continuous narrative."
For more information:
Instagram
:
@libraryexcavations
@publiccollectorsartistfiles
︎
︎Here's the text︎︎
Chest wound to the chest. Child locked in a car. Son is in the sewer. Overdose in the alley. Good morning, how are you? Can you take a look at this alarm? Panic alarm at the Starbucks. Wendy's hold up alarm. Your shoplifter returned and shoplifted again. Made threatening remarks and stole children's games. We have a mental health disturbance. We've got a male who don't want to leave. We've got a missing autistic. We've got an animal vicious. I need someone to go check on a puppy dog. Possible overdose behind the wheel at the gas station. People in the house are acting crazy. One of the bullets went into one of the homes. Resident fell between the bed and the wall. Female has not been heard from in three days. Your girl is inside the beauty supply store with two large knives. A group of girls is trying to fight her at her front door. I've got two females trying to assault the skating rink manager. She had a brick in her hand. She says he can't drive straight. She damaged his vehicle and is making threats. She collapsed in front of the Walmart. The mom is drunk. She's still armed with a knife. The lady that stabbed the person… what's she doing? She's unable to wake her male friend up. She wants her dog back. She's being harassed by the child's father. He's not supposed to be on the premises and I guess he's there. Male in a Bears jersey threatened to shoot up the store yesterday. Now he's back and he's in the bathroom. He won't wear a mask and is threatening staff. He was a cussing sensation. He's off the bus. He says he can't watch the game. He's having an allergic reaction to a brownie he ate at a party. He feels like hurting himself. He's kicking in the front door now. Suspicious person going in the backyard. Homeless people setting up a tent. Someone selling drugs in some kind of police uniform. People are stealing a deceased resident's belongings. Smoking marijuana and they don't have masks on. Caller said security just closed the door on someone's leg on purpose. Caller said her friend was cutting her. Caller smelled chemicals. Caller was screaming and then she just hung up. Car versus garbage truck. School bus versus car. CTA bus versus a car. Car versus viaduct. There's a one car accident into a tree. Car was just hit by a FedEx truck. Mercedes parked in the handicapped space. Four males went eastbound with Amazon packages. Grey shirt, black jeans, low haircut. Black plastic bag wrapped in tape. Zebra X-Ray. Charley George. Charley Eddy. Eddy Ocean Nora. Possible DOA. DOA appears natural. Bonafide DOA. Bonafide fire. Bonafide home invasion. Yeah it's a bonafide person shot. Can you take that paper for the person shot in the thumb? I thought I was coming here to relax. 26 year old man just broke his hand in a machine. Kids are filming skateboarding over on this bridge. Children are running up and down the street without clothes. School principal pushed into a table. Employee face down on the floor. Unconscious person in the bushes. The store Bye Bye Baby just had a retail theft. Paintball people still riding around shooting the paintballs at people. Boat is about to break loose from the harbor. Got an oven on fire. Got the neighbors fighting over the power cord to a wheelchair. Male broke the windows—possibly with a beer bottle. Male was stuck in the bank. He was able to get out. 8-10 males on the premises. They're not leaving. Man is shooting yellow paintballs at CTA buses. Man is holding up the drive through because he's not satisfied. There's a male approaching strangers and yelling. A male is trying to burn the place down and is intoxicated. Male in the lobby with feces on him refuses to leave. Three young males were following him on scooters. A bullet hole in her home. We have 8 rounds and it's coming from the front. People were firing at her child's father. Ex-boyfriend on parole has the gun in a blue Taurus. They keep the drugs in a white Impala. Loud music coming from a white Nissan. Covert unit responding to the black Lexus. White Ford with a woman inside who appears to be sleeping. White dude in a Corolla. Victim is uncooperative. Sorry for yelling. We walked to the second floor. We listened to all the doors. We heard nothing. She could hear furniture being dragged across the floor. We found her. They got her. Nothing further. We can call this thing over. If anyone's hungry we have food in the multi-purpose room.
---
Tyko Say's We
︎The text was projected in
Prague
and in Hudson, New York in collaboration with
The Flowchart Foundation's TENTACLE project.
We
is composed of lines that can be read both negatively and positively from the perspective of the Covid-19 restrictions. The objective of the project is to encourage onlookers to recognize the qualities they have gained in isolation.
Phrases like "We keep vacuuming our homes" and "We cry secretly in the other room while our girlfriend sleeps to not wake her", encourage onlookers to think about their own habits and tendencies that they have gained during isolation which seem negative at first, but are ultimately a force of good.
Here's the text ︎
We keep vacuuming the house. We sold our shoes because we do not need them anymore. We cooked our girlfriend breakfast after she yelled at us. We brush our teeth twice a day as an event. We are excited to go to the store, to eat vegetables. We have found hidden secrets of our homes, our bodies. We have developed habits we are not yet comfortable with. We feel sorry for the delivery driver. We call our mothers and tell them we are sorry fo not calling. We wash our hands when we come home. We think about our childhoods and smile. We clean new places in old rooms. We want our friends to call us so we call them. We want to be looked at so we look close at ourselves. We get haircuts in the living room & pay for the inconvenience. We want to be better cooks so we call our mother in-laws. We cry secretly in the other room while our girlfriend sleeps to not wake her. We want to be more creative and we are excited for a moment. We make our beds and are not afraid anymore We tell each other It is ok. We tell each other we are not alone. Tell each other. Tell ourselves. It is ok. We are not alone. It is ok. We are not alone.